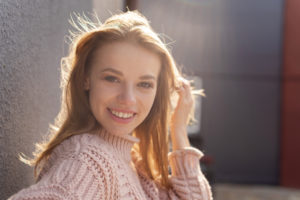 What will it take to give you a smile that you feel excited to show to the world? Many people who lack confidence in the appearance of their teeth may feel reluctant to even bring up cosmetic dentistry. Between fears about the time it will take and the work that will have to occur, it can feel as though real results are out of reach. Fortunately, the right procedure can require less time and work than you realize! At our Bryn Mawr, PA dentist's office, we can make exciting improvements by placing porcelain veneers. We can use these slender restorations to fix problems with the color, shape, size, and alignment of teeth. You can see these results sooner than you anticipate, as your service can be completed in only two appointments.
Cosmetic Services Take On A Wide Range Of Concerns
Cosmetic dentistry is able to help many people with many concerns about how they look. While one patient may want to book an appointment to learn about how their smile can be whitened, another may be interested in what they can do about chipped or cracked teeth. In many cases, more than one issue stands between patients and the way they hope to look after cosmetic work is completed. Our office can help take on these different matters. You may be surprised to learn that porcelain veneers are all that you need to see desirable results even if you are someone with many changes they wish to make.
Using Veneers To Make Your Smile More Attractive
Porcelain veneers are thin, durable shells that we place in just two appointments. The first visit is the time where we perform important preparatory work. We carefully measure teeth so that you receive restorations that are the right shape and size to make your desired changes. We also provide targeted preparatory work that will see Dr. Shoumer carefully modify enamel to make space for your veneers. That preparatory work helps to both ensure your restorations remain in place for the long term and look natural when they are put in position.
We Also Provide Smart Care For Teeth That Are Poorly Spaced
While your teeth may be healthy and attractive on their own, their poor alignment could be an issue for you. Malocclusion can give you an awkward, asymmetrical look. To take on this problem, we can actually use Invisalign to gradually and discreetly adjust your smile. Choosing this over work with conventional braces can ensure you have the right results while not worrying about how treatment impacts the way you look!
Talk To Your Bryn Mawr, PA Dentist About Treatment With Veneers!
With the placement of porcelain veneers, we can help you take on significant smile concerns in just a short time. This approach to care also limits changes to your tooth structure. If you would like to find out more, please call Dr. Shoumer in Bryn Mawr, PA today at (610) 234-3881.