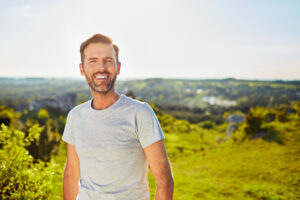 When your teeth take on a yellow or stained appearance, it can bring down your self-confidence. Because your smile is the center of attention when speaking, its discoloration can create an unwanted distraction at the most inopportune time. Even when you practice rigorous oral hygiene, a duller look can make you seem prematurely aged or less healthy. This means that by seeking treatment to correct discolored teeth, you can improve your attractiveness and increase your self-image.
Your Bryn Mawr, PA, dentist can help you return your bright white smile with our professional teeth whitening service. Our office uses Phillips Zoom Light-Activated Gel to enhance the shade of your teeth in only an hour. Because the application of modern technology allows us to accelerate the speed at which stains dissolve, you will enjoy powerful results immediately upon exiting your appointment!
An Alternative To Over-The-Counter Whitening Treatments
Although certain teeth-whitening kits at your grocery store or local pharmacy may be safe, the professional recommendation of your dentist helps you avoid potentially harmful products. If you have any sores or receding gums, our professional process can apply your treatment while taking care to avoid damage. Additionally, store-bought solutions may only remove recent stains on the surface of your teeth but fail to address the deeper layers of enamel that our professional whitening treatment can reach. Be sure to speak with your dentist before trying any whitening product so we may highlight their effectiveness!
 Scheduling Your Treatment To Treat Discoloration
By deciding to correct your teeth with Phillips Zoom Light-Activated Gel, you will be happy to see how quickly your smile's shade improves. This gel dissolves stains effectively in combination with our accelerator light. By speeding up the rate at which your treatment removes stains, our in-office procedure need not take you all day! Simply enjoy a brighter smile at the end of your appointment.
When Your Discoloration Is Due To Loss Of Enamel
Because gel-based treatment targets stains within the enamel of your teeth, it is not as effective when your problem is due to the loss of the surface layer itself. To treat intrinsic discoloration, we recommend placing a set of porcelain veneers to light up your smile. Made of a tooth-colored ceramic that covers the front of your teeth, veneers allow you to select their desired shade. This can hide stains and enhance your teeth's shape, size, and length as well.
Speak With Your Bryn Mawr, PA Dentist About Enhancing Your Smile With Teeth Whitening
By providing treatment to brighten your smile, we can help you regain enthusiasm for your appearance! For more information on teeth whitening and its role in improving your grin, call our Bryn Mawr, PA, dental office at (610) 234-3881.