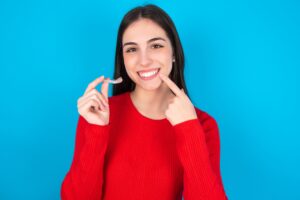 While you may not like your poorly aligned smile, you can worry about the effect its treatment will have on your daily life. Do you have to depend on fixed, conspicuous aligners to make changes? Our Bryn Mawr, PA dental office can talk to you about an alternative. For many people, Invisalign will prove effective at fixing spacing problems. This is a treatment that depends on a set of clear appliances that guide teeth into their appropriate positions. In addition to being hard to see, you can have little trouble removing them at the appropriate times. This means you preserve how you look and avoid difficulties with biting, chewing, and cleaning your smile!
Orthodontic Treatment Makes Important Changes To Your Smile
Patients affected by poor teeth spacing deal with esthetic issues as well as potential oral health problems. Teeth that overlap can prove more difficult to clean, so tartar accumulation is harder to avoid. Misalignments also lead to poor bite alignment and function. As time passes, an imbalance can cause worsening stress to your jaw joints and muscles and cause discomfort. Fortunately, corrective work can take care of your difficulties with your smile as well as these additional concerns.
Using Invisalign To Enjoy A More Comfortable Experience With Corrective Work
The option to undergo corrective work with Invisalign can make orthodontic care more appealing. Many people are relieved to learn that a discreet adjustment is possible with appliances that are difficult to see. In addition to being hard for others to notice, they are easy for you to remove without help. Because of this, you will not have to concern yourself with changing how you clean your teeth or eat.
What To Look Forward To When Your Adjustment Is Completed
After completing corrective work to address poor teeth spacing, you can be free from embarrassing gaps or overlaps that exist between your teeth. As a result, you can show off a smile that is more attractive and symmetrical. What you also gain from this work is an improvement to spacing that can make oral hygiene more effective. For many who struggle with persistent jaw pain, orthodontic adjustments can contribute to improvements in bite function that reduce tension.
Talk To Our Bryn Mawr, PA Dental Office About Invisalign Treatment
Orthodontic services make meaningful cosmetic and oral health improvements. Unfortunately, people who worry about the effect of aligners on their daily life may postpone the work they need to straighten their teeth. Invisalign aligners make corrective work easier to fit into your daily life, as they are discreet as well as easy to remove! To learn more about how this work can benefit you, contact our Bryn Mawr, PA dentist's office today at 610-234-3881.